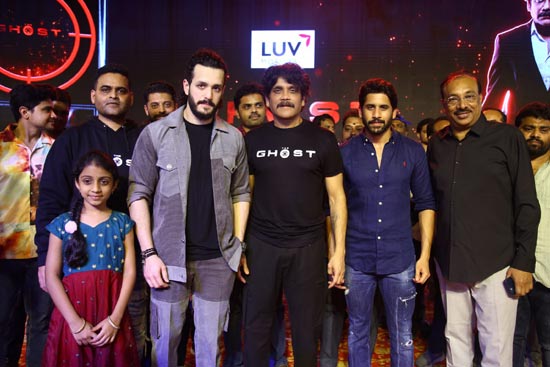 The makers of The Ghost are leaving no stone unturned to promote the film. The trailer and the first single released have brought very good positive vibes to the film. The pre-release event of the film was conducted today in Kurnool.
Speaking at the event, King Nagarjuna said that he needed to thank the Telugu film industry and his father ANR for all the love their family is getting. Nagarjuna reminisced about his cult hit Shiva which was also released on the same October 5th and added that he is once again coming for the same date with The Ghost.
Nagarjuna said that director Praveen Sattaru balanced both action and drama in The Ghost. The actor stated that the director made him and his entire team work very hard for the film. Nagarjuna said that he invited both Chay and Akhil to the event so that they can witness the lovely support and the crazy chants of the fans.
Nagarjuna said that he visited Kurnool for the last time during the Annamayya film. Nagarjuna thanked all the fans for attending the event. The actor also wished his dear and near friend Chiranjeevi whose film is also releasing on the same day and added that he wanted both the films to be successful.
The post Nagarjuna – Praveen Sattaru balanced both action and drama in The Ghost first appeared on 123telugu.com.
Like
Thanks!
You've already liked this